drpablo wrote:
Why would you want a lot of range out of tech pan?
I wouldn't, but if you did, that's how you get it. For me, it's panatomic x all the way, I love the stuff. Just for fun I shot a candle in the dark with it. Just with pyro developer, I think I got enough range for a passable shot, but I'll be able to get twice as much with the POTA.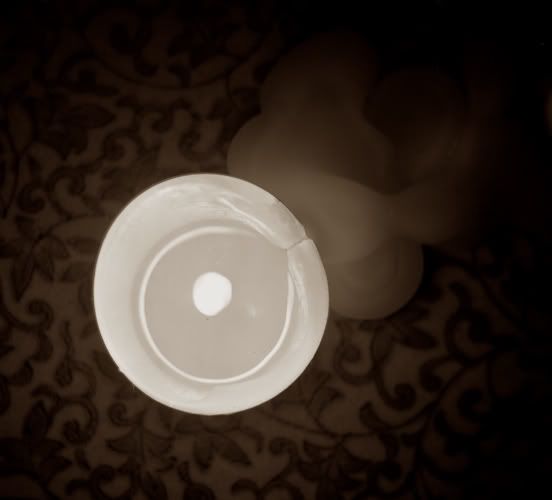 For some reason I toned this scan in PS. Anyway, the range I measured for this scene was ~14 stops. So I hit it with wd2d+ and underdeveloped a minute or so. I figure I dug out 10-12 stops with no real effort. Actually there is some tonal structure in the flame, but since it was a long (2 sec) exposure, it's mostly motion-blurred out.
drpablo wrote:
Along similar lines, however, I just stopped by Peace Camera in Raleigh today (I've started working at Duke so I'm a lot closer now). They have a lot of rare films there. I picked up a roll of PL25, which should be interesting. I also bought a box of 25 4x5 sheets of Maco 820 Aura IR film, which is the version without the antihalation layer. It only cost $30.
You mean Efke PL25? Didn't know it came in rolls. I have a few boxes of PL25M minisheets that I shoot on the rb, they are very nice in wd2d+. Not nearly as fragile as some allege. Anyway wd2d+ apparently has some protective, hardening properties.