Fueled by some unexpected free money from a day's work on the crab boat I went searching for an accessory for my recently acquired (in a horse trade) Speed Graphic.... and ended up with this: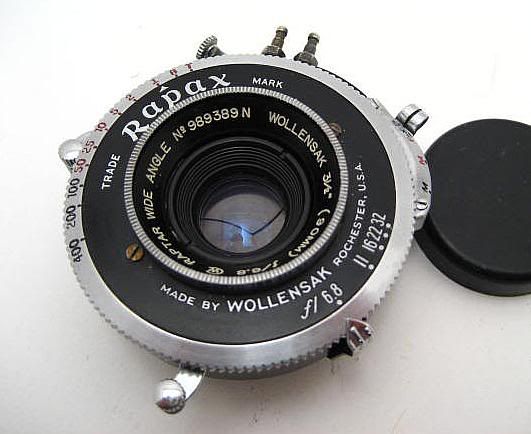 A wollensak 90mm raptar. I've been looking for one at a good price, off and on, since building my little portable 4x5 that ended up being too annoying to use in practice :)
This is a very tiny lens and will disappear inside the folded up speed graphic (loop your thumb & forefinger and that's close to the size of this thing). Once I add a grafmatic (6-shot film holder) I'll have a large format landscape camera I can take anywhere (and the low total price of the outfit won't hinder me from using it in wet or salty conditions, eg in heavy surf). The 40+ lb backpack with my much-more-capable shen hao hinders me sometimes (though I have hiked and biked with it).
By comparison, my existing 90mm lens (which is *much* better than this little wolly, I will admit) is enormous and definitely wouldn't fold up inside the speed graphic. It looks like this: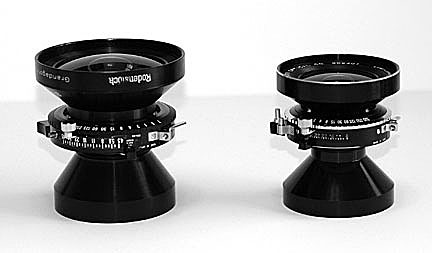 I may try to modify the speedie's front standard to give tilt, though I'm not sure the wollensak can handle it with its very tiny image circle. Stopping down sufficiently usually works anyway. And the lens, while not the most capable, is fairly sharp. The resolution tests rank it pretty close to something like a schneider super angulon, but it softens up a bit in the corners and doesn't give any room for camera movements (the speed graphic doesn't have much movement anyway).
Not a bad trade for a day's entertainment on a fishing boat.
_________________
The meaning of life is simple: we exist to use our senses and consciousness to appreciate a universe that might otherwise go unappreciated in its eons of vast silence.
http://visualfiction.org/