Looks like this hasn't been done at least in the last couple years. Any genre in BW. Selective coloring is allowed (as is griping about selective coloring). This idea was inspired by a first BW ever post by Buddy Bob, which reminded me of early conversions, which reminded me I am supposed to come up with an idea for a challenge.
It's quiet here so how about we go 3 max on number of images.
Go out and shoot and convert for extra consideration, but if you want to post oldies that's ok, but (** see below!)
If you're in a shooting slump, hit the archives and convert something you'd never dream of converting, or maybe see one you never considered.
If you don't do BW, never have, go to your editing software, go to BW and hit the auto button and post it. (** see below!) Tell us you did it, extra credit for bravery will be given.
If you hate BW, feel free to make snide comments about ours. If it's funny enough, I might choose you as the winner.
Any old conversions have special meaning to you? Post 'em and tell us about it. That's what I did in the case of my 3 below.
Runs to Friday, Aug 26, 23:59 GMT. (if I can figure out the time conversion here).
Start of anal disclaimer: It is important to me that y'all understand that I will be choosing a personal favorite for some reason, and it could be almost any reason. Not a winner, I'm not qualified to pick a winner. Way I see it, if you participate and have any fun doing it, you won. I won just getting to post these oldies and reminisce about them. End of anal disclaimer.
** Please tell me/us about the shot. When it was shot? Why did you choose to convert it? What is the meaning of life? Those sorts of things. And don't be afraid to comment on the posts of others. I may sleep through the week so don't count on me to do it.
For fun, to start the ball rolling, I'm going back in time.....
This is perhaps my first BW conversion that I took beyond whatever BW conversion plug in I was using at that time (that's how I used to convert). The colors were subdued (obviously) and I thought maybe BW would be fun. I tried my plugin and it just didn't cut it. It was in this image that I actually visualized the different tones of black/white/gray, and first tried to manipulate them without a plugin for some tonal impact. I think I fell in love with BW (beyond choosing a 'film type' in a conversion plugin) over this simple fog shot.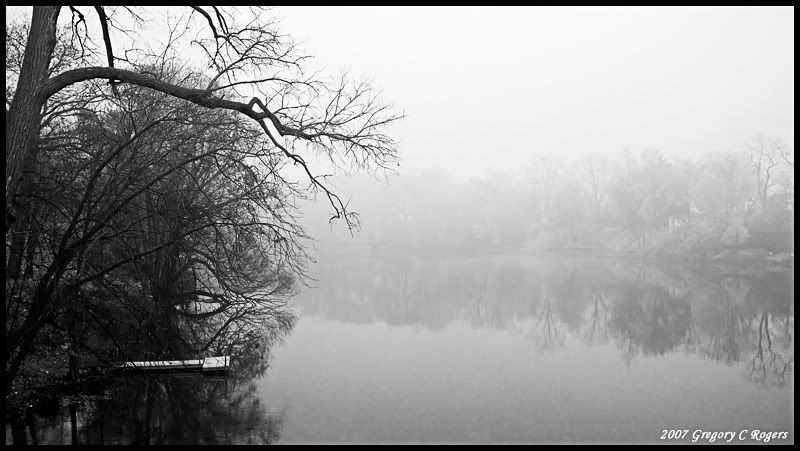 This is a photo from probably 2005 or so. It was taken at a friend's house. He had a fly-in party in his backyard, and this is somebody taking off in his Cub. I was never satisfied with the color version. The red of the airplane was too vivid, the greens as well, all I saw was the visual contrast between the greens and reds, and I wanted more. Several years later (2009, it looks like) I found this in the archives and decided to convert it. It now speaks to me. The wingtip is in my face and the shadow is doing what it was supposed to do and all that stuff. It ain't perfect and I'd probably do some things differently now, but that's not the point.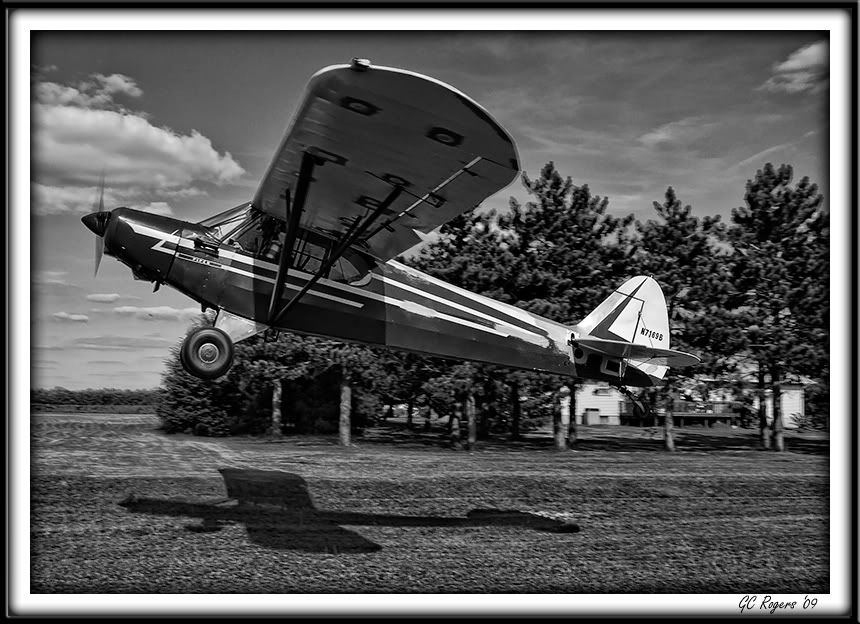 And this one because it is the first people-shot I remember converting, period. In the fume-room '70's, 90% of my prints were people shots. This is from a Cubs game in 2006, I believe. Not sure what made me convert it, but when I did it was like, "Whoa!, I forgot how much impact BW can have on people shots!"
I'm not saying any of these are spectacular, nor shining examples of BW conversion technique, but each of them played a great part in my appreciation of BW in the digital era. It's funny, back in the '70's I shot Tri-x and printed because I couldn't justify a color enlarger. Did my color stuff via slides. I didn't really realize how cool BW was back then, it took about 30 some years and digital to make me 'see the light', both literally and figuratively, really.
Have fun with this, I hope!
_________________
-Greg
I welcome
all
critique, and appreciate and value your time and comments greatly.